FL, FG Series Vertical Boiling (Granulating) Dryer
---
FL, FG Series Vertical Boiling (Granulating) Dryer
◎Drug granulation and coating Granulation: tablet granules, granules for granules and capsules. Coating: granules, protective layer of pills, color preparation, slow release, film, enteric coating. ◎Food Granulation and Coating
---
Category: Granulating equipment series
Application area
◎Drug granulation and coating
Granulation: tablet granules, granules for granules and capsules.
Coating: granules, protective layer of pills, color preparation, slow release, film, enteric coating.
◎Food Granulation and Coating
Sugar, coffee, cocoa powder, butter, powdered fruit juice, amino acids, condiments, puffed food.
◎Pesticide, Pigment Pigment and Dye Granulation
◎Drying of Powdery, Granular and Block Materials
Performance characteristics
◎Through powder granulation, improve fluidity, reduce dust flying;
◎Improve its solubility by granulating powder.
◎Mixing - granulation - drying - in one machine (one step granulation);
◎Antistatic filter material is used to ensure safe operation of the equipment.
◎Multi-fluid spray gun is used in the binder atomizer. The spray particles are uniform and the qualified rate of finished products is greatly improved.
◎The equipment has no dead angle, the loading and unloading material is light, fast and clean.
Schematic diagram of structure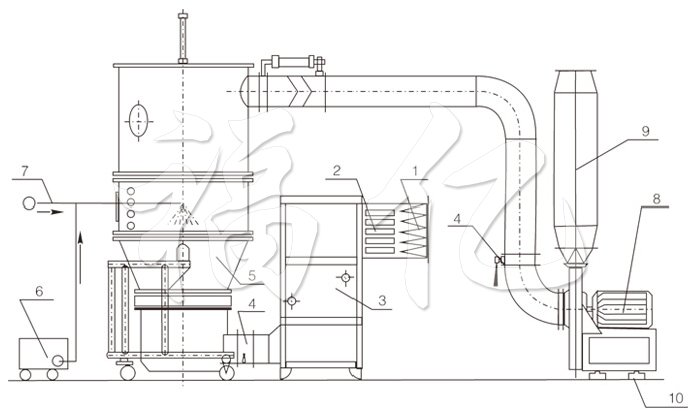 1. Medium efficiency filter 2. Sub-efficient filters 3. Heater 4. Air regulating valve 5. Fluidized bed 6. Infusion pump 7. Compressed air 8. Induced draftfan 9. Muffler 10. Shock absorber.


Technical specifications
Specifications
Capacity
Processing
capacity
Fan
power
Steam
consumption
Compressed
air consumption
Noise
Outline size
3
12
1.5/4.5
2.2
12

0.3

(Fan
Isolation
Installation)
≤75
1.0
×0.55
×1.8
5
22
4/6
3
23
1.3
1.2
×0.6
×2.1
15
45
10/20
4
42
0.3
1.25
×0.9
×2.1
30
100
15/45
5.5
70
0.4
1.6
×0.9
×2.3
45
155
25/65
7.5
99
0.4
1.65
×1.1
×2.4
60
220
40/80
11
141
0.6
1.85
×1.25
×3
90
300
60/120
15
169
0.6
1.85
×1.25
×3
120
420
80/160
18.5
211
0.9
2.2
×1.65
×3.1
150
530
90/200
18.5
251
0.9
2.27
×1.72
×3.1
200
660
100/300
22
282
0.9
2.34
×1.9
×3.5
300
1000
150/450
30
366
1.3
2.8
×1.9
×3.8
500
1500
300/300
37
451
1.5
3
×2.55
×4.2
Note: FG without granulation